ESC Asia 2021 with APSC & AFC
Abstracts and Clinical Cases
ESC Asia 2021 with APSC & AFC, 2 - 4 December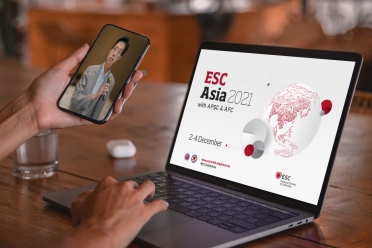 Original science remains our priority, so the congress will support researchers by giving their work great visibility and offering an opportunity to interact on their findings.
New this year - A Call for Abstracts is now open and we will host a new Young Investigator Award Session in addition to our Clinical Case Award Session.
Don't miss the opportunity to submit your work and join the event.
The Clinical Case and Abstract-based programme will be created with the objective to highlight the excellence in Science from the region and to benefit from an international platform for scientific exchange.
Be part of the programme by submitting your abstract and/or clinical case before 25 August.
ESC Asia with APSC & AFC allows you to reach a larger audience with your online presentation and discussions.
Be acknowledged as an active contributor in your community
Create multinational connections with peers and experts from Asia-Pacific and beyond
Get your work published in the abstract supplement of the European Heart Journal (Impact Factor 2020: 29.983) and included in ESC 365, the world's largest cardiovascular library with 110,000 users and 4.1 million online views
So don't miss out and get ready to enter your work by 25 August into the ESC Asia 2021 with APSC and AFC scientific programme.
Submit your science here: https://www.escardio.org/Congresses-&-Events/ESC-Asia/abstracts-and-clinical-cases